24' DOUBLE LANE TROPICAL HURRICANE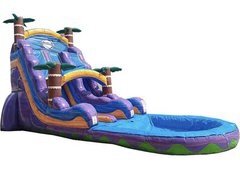 Setup Area: 40'Lx20'Lx24'H
Actual Size: 38'Lx18'Wx24'H
Attendants: 1
Outlets: 1
Age Group: 6+
Description
Are you looking for a large slide for a big event, birthday party, or graduation party? Look no further- you have found the slide you are looking for! Dive into this super-fast hybrid slide in an extra-large deep pool! This pool measures 2.5 feet deep and is perfect for teenagers & adults! It will surely be a great time for the whole family! This slide includes extra safety features such as safety netting over the steps and slide lanes to prevent anyone from jumping off the inflatable and includes non-slip entry pads to the stairs to prevent falling up or down the entrance.
*** Please note this is a VERY large slide and needs a lot of room. Please make sure to measure your yard appropriately, mindful of low-hanging trees with tree branches & any low hanging wires.
*


Any rentals booked overnight must be in a backyard setting or a fenced-in front yard setting. Back yards do not need to be fenced in. If a rental is booked overnight and does not meet these requirements, the rental will need to be picked up the same day.
Want to guarantee fun all weekend? For only 40% more, rent this hybrid slide all weekend long! Drop off is Friday by 6 pm and picked up Monday by 8:30 am.
Looking for a week-day rental? We offer three days for the price of one during the week! Choose either Monday- Wednesday or Tuesday- Thursday. Weekdays exclude Fridays. Drop off is by noon either Monday or Tuesday and Pick up Wednesday or Thursday by 6 pm.
Due to large quantities of bookings over the weekend, we may have to drop them off the night before your event at no extra cost to you. We will contact you 1-2 days before your event to discuss any additional details or request drop at early times. As always, overnight rentals MUST be in a backyard and never a front yard unless the front yard is fenced in. Back yards do not have to be fenced in to qualify for overnight or early drop-off rentals.

If the rental you book is not booked the day AFTER your event, at no extra cost to you, you may keep the rental an extra day if desired. However, to qualify, the rental still needs to be in a backyard setting or a fenced-in front yard setting. Please note: Any extra play time is NOT guaranteed unless upgraded to a weekend rental at the additional cost. Please do not count on any rental being available the day after your rental.