7N1 Double Lane Royal Castle Bounce + Slide | WET/DRY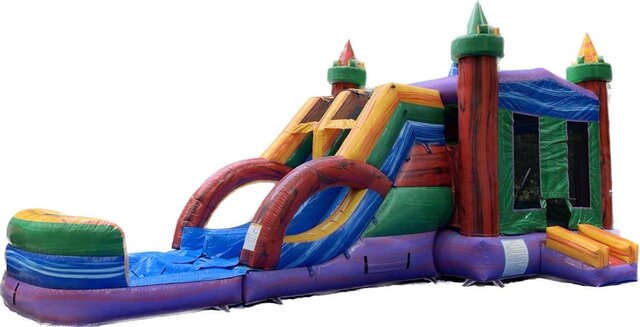 Overnight


$300.00

All Weekend
Fri Night - Mon Morning

$350.00

WEEKDAY Special
Tuesday - Thursday

$250.00



Sunday Funday Special
COUPON CODE: FUNDAY

Save $15.00
min. $225

Setup Area: Grass | Sod | Pavement (Dry Only)
Actual Size: 36' L x 20' W x 16' H
Attendants: Adult Supervision Required
Outlets: One (1) Electrical Outlet on 20AMP Circuit within 100ft
Age Group: Recommended 12 & Under
Description
7N1 ROYAL CASTLE W/ BOUNCE HOUSE & 8FT DOUBLE LANE SLIDES

LARGE EVENTS | FESTIVALS | FIELD DAYS | CELEBRATIONS | FAMILY GATHERINGS & MORE!
FREE PROFESSIONAL DELIVERY & SET UP TO HUDSON, SPRING HILL, PORT RICHEY & NEW PORT RICHEY, FLORIDA

This Beautiful 7N1 Bounce & Slide Features 8ft Tall Double Lane Slides that Either has a Deep Pool (Wet) or Bumper Pad (Dry), an Extra Large Jumping Area & Inside Basketball Hoops! The multi-colored panels of this Royal Castle are not like any other & will sure make a statement at your next event! You'll only find this unique inflatable at Mancini Party Rentals- Pasco's Best Inflatable Rentals for Kids. Rest assured that you're renting from a reputable, dependable, five-star rated, Licnesed & Insured Company! Don't settle for less, Book Pasco's Best. We bring joy & memories that last a life-time!
BASE PRICE: We guarantee a full day of play! We guarantee to arrive and set up before your party starts, so you are guaranteed your 6hrs of FUN! Not enough? We offer overnight options and full weekend options! (GOOD DEAL!)
OVERNIGHT: Why limit the fun? Does your party end after 8 pm? Throwing an adult party? No worries! For Only 20% More We offer a "Play all Night Long" rental option for your event! Simply upgrade to our Over Night Rental Option at check-out. Overnight rentals are picked up the next day after 7:00 am. The best part? You don't even have to be awake (or home) when we pick up! Just ensure it's plugged in & blown up, we'll handle the rest. If seeking a full second day of play, we recommend you upgrade to our Full Weekend Rental Option. (GREAT VALUE!)
WEEKEND RENTALS: Still wanting more? Why limit the fun to one day! For Only 40% More, We offer a "Play all Weekend Long" rental option! We offer a weekend rate at an affordable price. Weekend rentals are dropped off Friday evening by 6 pm and picked up Monday morning by 7:00 am. This guarantees TWO full days of play for one low price. Please select our Weekend Time slots at the bottom of the tier. (BEST VALUE!)
WET OR DRY PRICING: Prices stay the same if rented wet or dry! What does that mean? If you rent your inflatable "dry," but end up using it "wet" or vice versa there is NO extra charge! Perfect for this Sunny Florida State!
OCCUPANCY: Maximum of Six (6) Riders at any given time. Two (2) on the slide lanes since this is a double lane slide. All riders must be relatively close in size and/or age to prevent harm to smaller, younger children. Maximum weight capacity must not exceed 500lbs at any given time.
DELIVERY: We guarantee on-time delivery BEFORE your party start time. We also offer contactless delivery as well. We're the only company in Pasco that Guarantees FREE delivery & set up to Hudson, Spring Hill, New Port Richey & Port Richey, Florida. Surrounding areas may have traveling fees, but not always! Please complete the form to see if you are in our free delivery zone! If you're outside of our free delivery zone, a small delivery fee may be added to your order based on the mileage.
RAIN POLICY: Reschedule due to rain at no extra cost w/24 hour notice. Gets you on the books next time!
CLEANING: All units are cleaned and sanitized before use & again at set up. We use a three-step cleaning process that includes 100% hypoallergenic cleaners that are 100% effective!
WHAT'S INCLUDED:
One Extension Cord Up to 100ft
One Blower to Inflatate the

FUN!

Safety Stakes to secure to the ground
Please note: We MUST stake the inflatable into the ground for your safety. All rentals that are placed on grass or sod will be staked. If placing stakes in the ground is not possible or unwanted, the alternative is sandbags - we still need to secure your inflatable! Examples of where stakes are NOT allowed: Indoor Gymnasiums, Asphalt, Concrete, Pavement, Gravel, Driveways, etc. For any inflatable that needs sandbags for anchoring, there is a $35.00 fee per inflatable that requires sandbags. If you are unsure if your terrain requires sandbags, please contact us so we can insure your safety (727)-619-8915.
Two basketball hoops inside the bounce house. Balls are not included, but are welcome to be used as long as they are soft! Please no hard balls or anything sharp.
WHAT YOU'LL NEED:
Enough space for us to set up your rental. Please pay close attention to low-hanging tree branches/limbs and/or low-hanging wires. Always LOOK UP when measuring your space!
A minimum 4ft wide gate if placed in a fenced yard or a 4ft wide door frame if placed inside a gymnasium.
OPTIONAL: Squishy or soft balls for the inside basketball hoops
OPTIONAL: Tarp to place under your inflatable. If desiring to use your own tarp, please have it laid out & ready to go where you want this inflatable set up.
One Electrical outlet on its own 20AMP circuit within 100ft of the setup area
Water source and water hose if renting this inflatable wet. No extra requirements if renting dry. If you're in need of a water hose, we rent those too! Make sure to add to your cart before checking out.

Please note:

All inflatables that are wet or wet/dry options come with a 10ft hose attached to the unit at all times. However, this hose is not long enough to reach your water source destination. Please ensure that you have ample lengths of water hose prior to your event rental date. We recommend at least 100ft in length. Also, please ensure that you still have the twist connection on your water hose. If there's no twist connection, we cannot connect it to our hose on the inflatable! If you're in need of a water hose rental, please click "Yes, I'll need a water hose!"